The reason why seafood is tasty in Shiretoko Rausu.
One of a reason why seafood in Rausu has incredibly great taste is the great nature environment.
Botanical plankton Which is carried by ice drift flow from Amur River in Siberia, Nutrient-rich minerals which is contain in melt snow water from mountains of Shiretoko, Natural activities of wild animals that circulate them make miracle and great harvest.
Okhotsk is the southernmost sea which ice drift reach in Northern hemisphere. You can do fishing through the year including severe winter here in Rausu, because drift ice does not stop in Nemuro Strait thanks to the unique shape of Shiretoko Peninsula. Many sorts of fish gather to Nemuro Strait off Rausu because there is a big gap between shallow area and deep area in it. The depth of the deepest area in Nemuro Strait is 2,400km. You can eat the best seafood here in Rausu thank to the rich benefits of nature and it's also a gift from effort of fisherman whom has lived with severe nature with wisdom and ingenuity. It has been passed down from generation to generation.
Rausu Kombu (All season)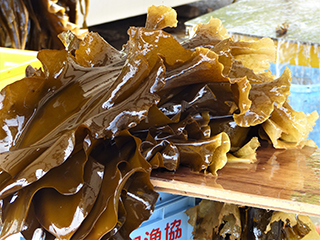 Rausu kombu is very valuable, 90 percent of domestic kombu is from Hokkaido and 1 to 2 percent of them are from Rausu. Rausu kombu could help to make great taste for any kind of food because it's including "Glutamic acid" which is natural taste seasoning. It takes 100 days to be ready to ship after kombu taken from the sea. Fisherman tries with 23 steps to bring out the perfect flavor with checking the weather and humidity.
By feeling taste, smell, and seeing beautiful shape which fisherman carefully cut, you will see that they are not only fisherman but also craft man.
---
Short-spined sea urchin (end of Janualy – June)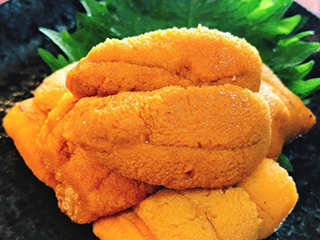 You can eat natural sea urchin at earlier timing in Rausu than any other places. Because we start sea urchin fishing earliest time of a year compared to another places in Japan. Sea urchin taken in Rausu is called "The most luxury sea urchin in Japan" because they eat Rausu kombu which is the highest lank kombu. It's often impossible to off to the sea because of the condition of the sea or drift ice affected so they are also called "Phantom sea urchin". "The most luxury Phantom sea urchin" As you can imagine by how it called, That's incredibly tasty. Sometimes fisherman go off the port in freezing snowing weather. We must appreciate rich benefits of nature and an effort of fisher man.
---
Squid (September – November)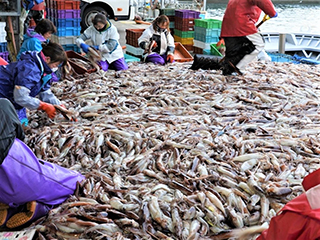 The best time of squid fishing in Rausu is Autumn. Enormous amount of big size squid is taken. There is so many ways to enjoy their taste. Sashimi, Sushi, Dried, Flied, and grill. Rausu's squid is thick so you can enjoy the unique texture. Many fishing boats gather to the sea of Rausu when its season come. It's wonderful experience to see thet ships is going to off Rausu port and fishing through the night.
---
Salmon (September – October)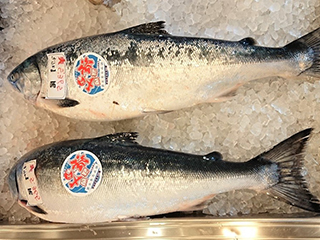 Please try many values of salmon here in Rausu. You can enjoy different kind of salmons depends on the season. May to July is the best season for Tokishirazu, August to October is the best season for Pink salmon, September to October is the best season for Cham salmon. There is deep and long history between salmon and Nemuro eria. You can enjoy salmons in both way learning and eating.
---
Tokishirazu (May – July)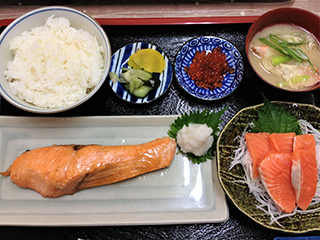 Tokishirazu is young immature Cham salmon. There is three to four times of fat on their body compared to normal salmon because they have long time until releasing eggs, so they store nutrition in their body. Tokishirazu is precious because the amount of catch is not so many through a year. You can enjoy both Sashimi and grilled at the same time by eating Tokishirazu dish set.
---
Salmon caviar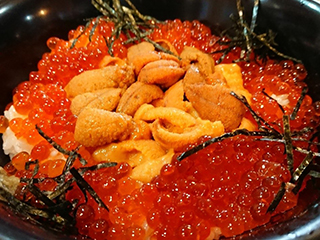 Salmon caviar which is taken in Shiretoko is rich and deep taste because water temperature is low. Feature of it is texture and sweetness and it is melting in your mouth. Eating with hot white rice is the best way to enjoy them.
---
Atka mackerel (April – January)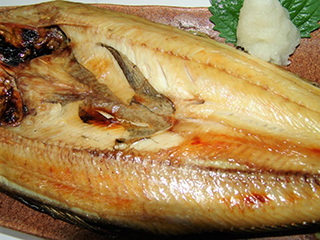 Atka mackerel is one of a typical fish in Rausu and its taste is stably great through the year. Atka mackerel treat as a high brand fish due to reducing the amount of catch and rising prices nowadays. Especially Rausu Atka mackerel is popular for its thick meat and rich oily texture. There is so many kinds of process food made from Atka mackerel, so it's suitable for souvenir as well.
---
Walleye pollock (January – March)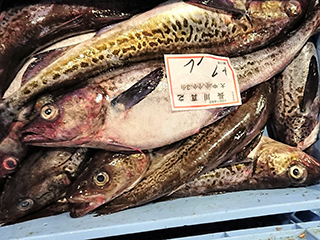 It's usually used for process food such as "Surimi" or "Kamaboko" and often eaten as a "Sashimi" and "Dried" as well. The name "Suketou dara" sounds like a "Helper dara" if I would translate for English. The reason why people call it by the name such as a "helper" is many people's help has needed for fishing it. You can use it for many kinds of cooking because of less fishy smell and soft bones. Eggs and sperms of them also used for cooking for Japanese hot pot and other.
---
Matara (April – May)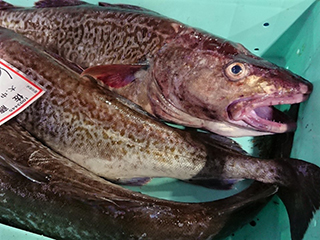 Matara is famous for their greediness for food. They have no strong smells and flavors so it's suit for any kind of cooking such as fried, hot pot, soup, and others. It's popular as a diet dish thank to good quality protein, good valance of nutrition, and low amount of fat. Its eggs are well eaten by Japanese people.
---
Kinki (May – December)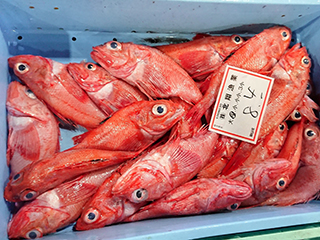 Kinki is known as a pricy fish. It also called "Menme" and "Me-sen" in Rausu. Feature of it is fat and gelatin they have. Typical way to eat is Sashimi, dried, and simmer. "Yuni" is unique way eating them in Rausu. Kinki taken in sea of Okhotsk is famous for the great taste. Especially in winter, they store more fat for spawning, so it tastes and texture is amazingly good.
---
Button Shrimp (July – October)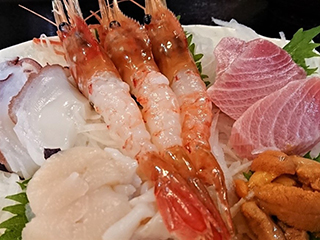 Button shrimp is so rare due to low amount of catch. The texture is unique, once you bite, you can feel elasticity and softness at the same time and It will be melted in your mouth. You can't often eat fresh button shrimp because it's quick to lose their freshness. You can enjoy it as a Sashimi, Grill and Tempura.
---
Grape prawns (July – October)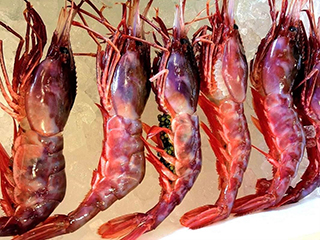 Beautiful grape color prawns, it is called "Phantom prawns" because of its rare rate of catch. We have a specific style of fishing in Rausu for catching them keep alive, so you can eat it as a fresh state. We recommend you to eat it as a Sashimi to taste their texture and sweetness. It's little bit pricy due to low amount of catch, however it worth it.
---
Gasa shrimp (July – October)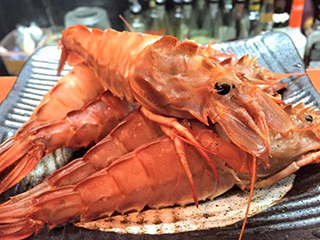 It has been eaten by local people since long time ago and it's discovered that it is same species with Sclerocrangon rex shrimp which is published as a new species in 2006. There is no fishing for catching only Gasa shrimp, so catching rate is not that high. It's almost impossible to eat it outside of Rausu town. The size is the biggest in Shrimp Shako Family all over the world, its sweet taste and soft texture is great.