The benefits of nature brought by the sea, mountains, wild animals, and unique ecosystems. -World Natural Heritage, SHIRETOKO-
The Shiretoko Peninsula is located at the east end of Hokkaido. The name "Shiretoko" comes from the Ainu language "sir-etok", which means "where the earth protrudes". The peninsula includes two districts, Rausu town and Shari town, divided by the Shiretoko Range. A northern territory of Japan, Kunashiri Island, 123 km long and 1490 square kilometers, is in 25 km east of Rausu.
The narrow strait and steep sea scarp in front of Rausu produces strong upwelling sea-currents, and bring us big fish catches. In winter when drift ice covers the sea, Shiretoko peninsula blocks the movement of drift ice and keeps some ice-free area in Rausu. Fishermen in Rausu, therefore, can continue their fishing activities even in the harsh winter.
Rausu is the southernmost point in the world, where drift ice covers the sea. Oxygen-rich water brought by drift ice and nutrient-rich water from the rapid rivers mixed up at the Nemuro Strait. The land and sea ecosystem connected and makes up a rich world of wildlife.
Shiretoko has been designated as a World Natural Heritage Site in 2005, based on the facts that endangered species, such as Steller's Sea-Eagle and Blakiston's Fish-Owl, inhabit and the law systems to protect the environments has been in place. Shiretoko is the first World Natural Heritage Site in Japan, which include sea in its area.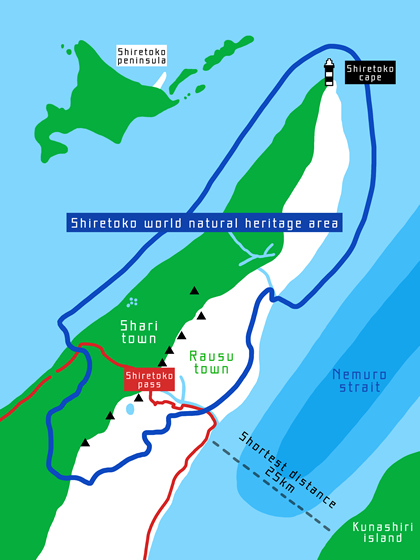 "Eat, learn and enjoy" Fisheries in Rausu that live with the sea.
We are living together with the sea in Rausu town.
The rivers flowing from the forest in the Shiretoko mountain range and the drift ice from the Sea of Okhotsk bring about an abundant sea where, from at least 50 types of fish, a great diversity of fish are caught throughout the year. Sometimes, for the purpose of coexisting with an unforgiving nature, Rausu's people have combined efforts and devised various ingenious plans over time, plans that have become characteristic of Rausu's fishing culture. The fishermen's life and work seem to indicate the season of Rausu. You can observe and experience the sort of work fishermen do with the guidance of the Rausu town industry guide.
Please be sure to have the pleasure of meeting Rausu's warm people and profound nature. In the furthest reaches of Japan, Shiretoko Rausu is waiting for you.